Category Archives:
Linear Stepper Motor
Motion Control – Miniature Positioning Stage!
Forestville, CA, – — The motion control SMS12 Linear Stepper Motor stage is an ultra compact stage that provides up to 12 millimeters of linear motion. This stage offers near sub-micron resolution with the ability to accelerate a small load at 2G's. A non-contact home sensor provides a reference position with repeatability of a couple microns. It was specifically developed for optical applications requiring both high precision and modest-speed positioning over a short to medium stroke.
This NEMA 23 ultra-reliable, stepper-based linear actuator is made with ball-bearings and dynamically balanced rotors for high-speed operation!
Greenville, DE –— Motion Control – Based on modified hybrid stepping motors, our AxialPower Plus motors are capable of producing linear forces up to 800 pounds and resolutions up to 0.000125″ per 1.8° step. The reliability and precision of our AxialPower Plus and L3 motors come from using only the highest quality parts. We use stainless steel to increase the durability of our actuating leadscrews. And our internal rotating nuts are made from a range of engineered polymers for low-friction, smooth operation.
APPS23: AxialPower™ Plus Stepper Type Linear Actuator
Size: Nema 23
Torque: to 150 oz-in or 106 Ncm
Typical applications for AxialPower motors:
Custom OEM applications (OUR SPECIALTY!)
Semiconductor handling and testing
Electric braking systems for railway cars
APPS23 Speed / Force Curves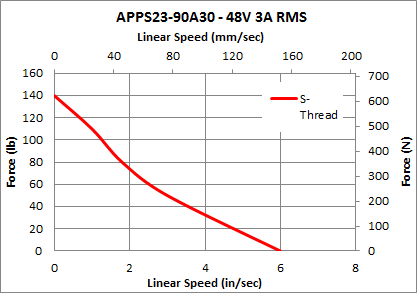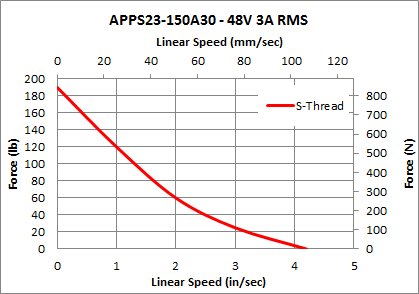 APPS23 Mechanical / Winding Data
Stack Size Models
APPS23 – 90A
APPS23 – 150A
APPS23 – 90V
APPS23 – 150V
Holding Torque
Bi-Polar
(oz-in)
90.0
150.0
90.0
150.0
Holding Torque Bi-Polar
(Ncm)
63.55
105.92
63.55
105.92
Holding Torque
Uni-Polar
(oz-in)
90.0
150.0
72.0
120.0
Holding Torque Uni-Polar
(Ncm)
63.55
105.92
50.84
84.73
Length
(inches)
1.8
2.2
1.8
2.2
Length
(cm)
4.6
5.6
4.6
5.6
Width
(inches)
2.2
2.2
2.2
2.2
Width
(cm)
5.6
5.6
5.6
5.6
Weight
(oz)
17.0
24.0
17.0
24.0
Weight
(Kg)
0.5
0.7
0.5
0.7
Step Angle
(°/step)
1.8
1.8
1.8
1.8
Number Leads
4
4
6
6
APPS23 Bi-Polar Windings
Winding Models
APPS23 – 90A10 – 1
APPS23 – 90A20 – 1
APPS23 – 90A30 – 1
APPS23 – 150A10 – 1
APPS23 – 150A20 – 1
APPS23 – 150A30 – 1
Current
(A/Phase)
1.0
2.0
3.0
1.0
2.0
3.0
Voltage
(V/Phase)
5.8
3.0
1.8
7.9
3.8
2.4
Resistance
(R/Phase)
5.8
1.5
0.6
7.9
1.9
0.8
Inductance
(mH)
20.3
5.2
2.0
35.0
8.6
3.5
APPS23Uni-Polar Windings
Winding Models
APPS23 – 90V18 – 1
APPS23 – 90V30 – 1
APPS23 – 90V60 – 1
APPS23 – 90V119 – 1
APPS23 – 150V23 – 1
APPS23 – 150V38 – 1
APPS23 – 150V60 – 1
APPS23 – 150V76 – 1
APPS23 – 150V154 – 1
Current
Bi-Polar
(A/Phase)
2.1
1.4
0.7
0.4
2.1
1.4
0.9
0.7
0.4
Voltage
Bi-Polar
(V/Phase)
2.5
4.2
8.5
16.8
3.3
5.4
8.5
10.8
21.8
Resistance
Bi-Polar
(R/Phase)
1.2
3.1
12.0
47.0
1.5
3.8
9.6
15.2
61.8
Inductance
Bi-Polar
(mH)
4.0
10.4
43.2
165.6
6.4
16.8
47.0
70.8
269.2
Current
Uni-Polar
(A/Phase)
3.0
2.0
1.0
0.5
3.0
2.0
1.3
1.0
0.5
Voltage
Uni-Polar
(V/Phase)
1.8
3.0
6.0
11.9
2.3
3.8
6.0
7.6
15.4
Resistance
Uni-Polar
(R/Phase)
0.6
1.5
6.0
23.5
0.8
1.9
4.8
7.6
30.9
Inductance
Uni-Polar
(mH)
1.0
2.6
10.8
41.4
1.6
4.2
11.7
17.7
67.3
APPS23 Frame Size Drawing Key
LINEAR ACTUATOR NUMBER
LENGTH
(INCHES)
LENGTH
(MM)
APPS23-90
1.75 ±.03
44.5 ±.08
APPS23-150
2.21 ±.03
56.1 ±.08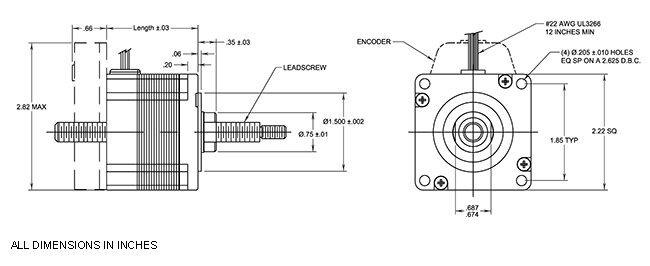 Thread
Designation
Thread
Description
(# starts)
Thread Lead
(inches)
Linear Travel
per step
(inches)
Q
3/8-20ACME
0.05000
0.00025000
S
3/8-10ACME
0.10000
0.00050000
T
3/8-16ACME
0.06250
0.00031250
All Electrocraft Motion Controls Products are available through www.Servo2Go.com
For further information on this new product or others in our extensive product portfolio, call
1- 877-378-0240 FREE or e-mail Warren Osak atwarren@servo2go.com or visit Servo2Go.com at: www.Servo2Go.com