Linear Motion Control – Vacuum Compatible Single Rail Stage!
Linear Motion – Single Rail Stages – SRS-008-04-020-01V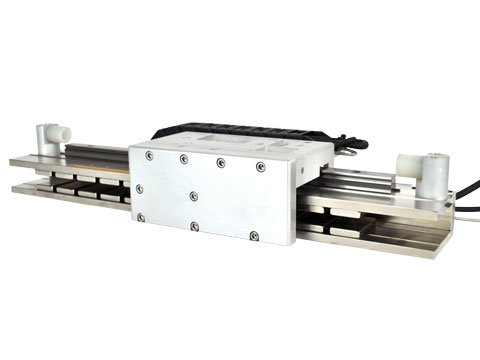 Santa Clarita, CA – Linear Motion Control – The SRS-008-04-020-01V vacuum compatible single rail positioning stage uses a brushless linear motor to generate a continuous/peak force of 20.6 lbs [91.6 N]/61.8 lbs [275 N] with a total stroke length of 8.3 in [210 mm]. The non-contact 1.0-micron resolution encoder allows for precise positioning. It is guided by a rigid recirculating ball linear bearing. There are also provisions that allow customer cables to be routed within the cable carrier. This single rail positioning stage has been manufactured using low-outgassing materials as selected by NASA in order to make it vacuum compatible. It has end-of-travel bumper stops. A home positioning sensor, end-of-travel-sensors, and custom mounting holes on the moving table are available upon request.For a detailed description of all the considerations taken when manufacturing a vacuum compatible system, please click here.
Stroke
8.3 in
210 mm
Encoder Resolution
1.0 micron
Bearing Type
Recirculating Ball
Moving Mass
3.5 lbs
1.6 kg
Total Mass
18.0 lbs
8.2 kg
Resistance @ 20C
8.1 ohms
Inductance @ 20C
6.0 mH
Electrical Time Constant
0.70 msec
Motor Constant
2.1 lbs/√watt
9.4 N/√watt
Force Constant
6.1 lbs/amp
27.3 N/amp
Back EMF
0.80 V/ips
31.5 V/m/sec
Force @ 100% Duty
20.6 lbs
91.6 N
Power @ 100% Duty
95.0 watts
Current @ 100% Duty
3.4 amps
Force @ 10% Duty
61.8 lbs
275 N
Power @ 10% Duty
846 watts
For drawing go to https://www.h2wtech.com/pdf/2014-05-21-22-56-32.PDF
About H2W Technologies, Inc
H2W Technologies, Inc. is dedicated to the design and manufacture of linear and rotary motion products that are used in the motion control industry. The complete line of linear electric motors includes: Single and dual axis linear steppers, DC brush and brushless linear motors, voice coil actuators, and AC induction motors. Also offered is a complete line of ball screw, lead screw and belt driven positioning stages.
Other motion control products include: Limited angle torque motors for compact, limited angular excursion rotary servo applications, 3 phase brushless rotary servo motors with matching digital servo amplifiers and permanent magnet linear brakes for fail-safe, zero power braking for baggage handling and people moving applications as well as amusement park rides.
With over 75 years combined experience in the linear and rotary motion field, the H2W Technologies team of engineers offers the optimal solution to the most demanding motion control, requirements.
For additional information contact Mark Wilson at H2W Technologies, 26380 Ferry Ct, Santa Clarita, CA 91350; Tel: 888-702-0540, Fax: 661-251-2067, E-Mail: info@h2wtech.com or visit the website athttp://www.h2wtech.com